108255 Toman Man with Dried Funeral Head, 1919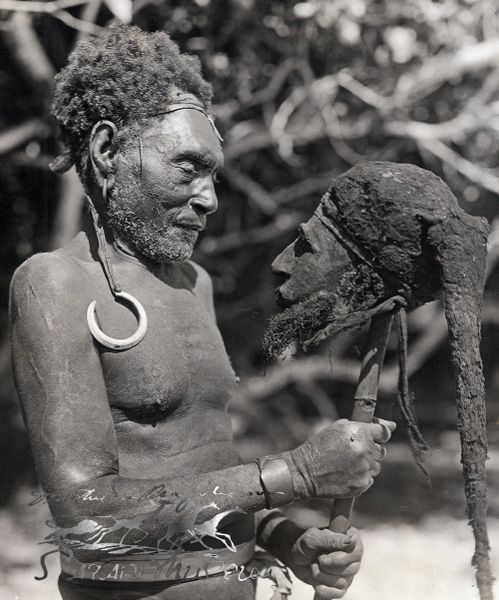 108255 Toman Man with Dried Funeral Head, 1919
The success of the Johnsons' first film, "Among the Cannibal Isles of the South Seas," made possible a second and better equipped film expedition to the South Pacific in 1919.
In April, they left San Francisco for the New Hebrides (now Vanuatu). Returning to Vao, they organized an expedition and set sail for Tenmaru Bay on the island of Malekula with the intention of again filming the Big Nambas. After a successful visit, Martin and Osa left Chief Nihipat and his part of Malakula to photograph and film other tribes of the island.

Off the south coast of Malekula they visited the island of Toman where the heads of children were elongated through the use of tight bindings. This photo is a portrait of the funeral head drier who permitted Martin + Osa to film this funerary custom. Colorized versions of this photo and others of the same series were used by Columbia pictures in 1940 to publicize Osa's film, I Married Adventure.
From Toman they visited the island of Espiritu Santo before returning to Sydney, Australia, with 25,000 feet of film and 1,000 photographs.
ORDER NOTES:

Please select the size of photo you would like to order.
Digital Photo has been watermarked, it will not appear on your order print.
True Black & White
is our recommended color choice for this image.