108405 Gobong Canoes on the Kinabatangan River 1920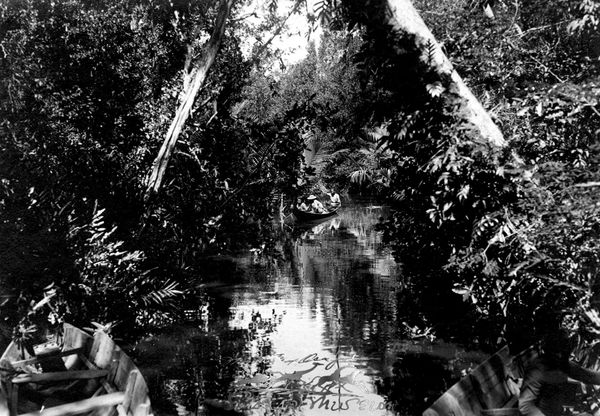 108405 Gobong Canoes on the Kinabatangan River 1920
"The more deeply we penetrated into the interior along the narrow waterway, the hotter it became. My head ached, I ached all over, I was a mass of mosquito bites, and the pain in my back from the crouching position I was forced to maintain in the canoe under the low nipa-canopy, was excruciating.
Every now and then we stopped at springs and plunged our hands and faces into the cool water, but this did little good.
I often think that a more patient or more considerate man than my husband never lived. He must have been far more uncomfortable than I, if for no other reason than his height. Taller than average, there was so much of him to fold up in the limited space. Too, he felt that he must be constantly alert with the camera, and yet I never heard him complain. On the contrary, all of his concern was for me. Often he insisted that I stretch out and try to sleep, even though my doing so crowded him that much more. His concern also extended to Mr. Holmes, to Chief Hadji and on down to the last native boy in our crew."

~Osa Johnson
ORDER NOTES:

Please select the size of photo you would like to order.
Digital Photo has been watermarked, it will not appear on your order print.
True Black & White
is our recommended color choice for this image.