108408 Osa Johnson aboard the Johnsons "Floating Home & Film Studio" North Borneo 1920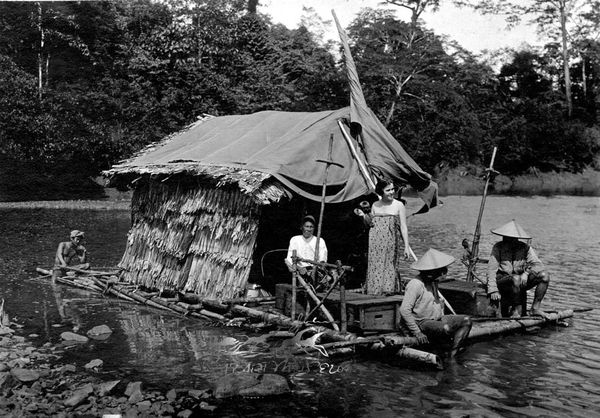 108408 Osa Johnson aboard the Johnsons "Floating Home & Film Studio" North Borneo 1920
Without returning home from their trip to the South Seas in 1919, Martin + Osa Johnson traveled to North Borneo in February of 1920 to film wild animals. Landing in April, and spending a few weeks in the town of Sandakan planning and getting permissions, the Johnson's first "wildlife movie" expedition was finally being realized. With few roads they traveled up river in gobangs (canoes) to reach the island's interior. At the headwaters of North Borneo's largest river, the Kinabatangan, they visited the Tenggara people, filming and photographing their centuries old customs. Martin + Osa traveled 420 miles up river before turning back for Sandakan.




This photo shows Osa aboard a specially built floating home and film studio.  After 420 miles up the river in the cramped gobongs, Osa became quite concerned about the effect of sitting in the dugout canoe for hours at a time was having on 6'2" Martin's health.  Osa she schemed with some of the local leaders to have a large, floating house and film lab built to provide Martin some level of comfort during the 14-16 hours per day he spent filming as they sailed up the uncharted river.  Osa's book I Married Adventure tells of Martin's reaction to their new floating home:

 


". . . where on our arrival three days later we found our house-raft waiting for us.  I shall never forget Martin's face.  He shot one keen, startled look at me then without a word stepped onto the raft and in through the little door.  Then, in turn, he stretched out on the bed, sat on one of the rattan chairs, and leaned his elbows on the table.  He even set his tripod on the little porch, and then, without speaking he hugged me close.  Mr. Holmes and the good Hadji, to whom I owed for the perfect carrying out of my plan, stood and looked on, and I think they were almost as happy about it as we were."

The constant rain and thick jungle canopy was a difficult challenge for Martin and Osa, who had never attempted wildlife photography before. Along the coastal lowlands around the city of Sandakan they were able to film elephants, buffalo and other animals. The result of their efforts was the movie "Jungle Adventures," which premiered in September 1921 to glowing reviews.  The quality and commercial success of this film is what first drew the attention of Carl Akeley and the American Museum of Natural History to their work, and a budding partnership was in the works that changed the trajectory of their career and set them on their path to the African continent that would be their only real "home" for the next 15 years.

Leaving Sandakan in July, they voyaged to Singapore, Ceylon (now Sri Lanka) and southern India, then continued west circumnavigating the globe. The Johnsons finally arrived home to Kansas nearly two years after they had left.




ORDER NOTES:


Please select the size of photo you would like to order.

Digital Photo has been watermarked, it will not appear on your order print.

True Black & White

is our recommended color choice for this image.