250709a Looking at Malaita from Auki, Solomon Islands 1917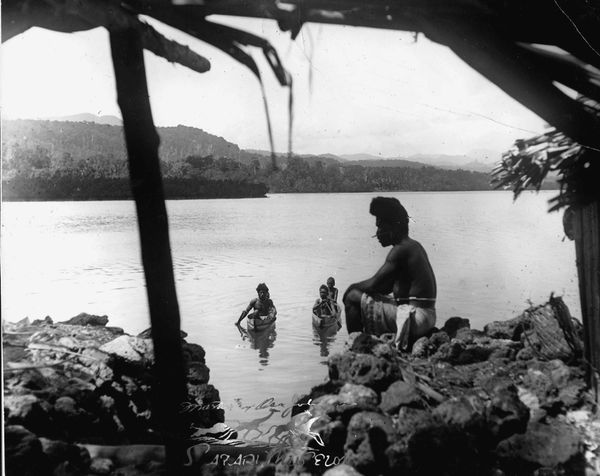 250709a Looking at Malaita from Auki, Solomon Islands 1917
Leaving San Francisco in June 1917, the Johnsons spent the next six months visiting the Solomon Islands and New Hebrides (now Vanuatu) retracing Martin's previous voyage aboard the Snark with Jack London.
Arriving on the island of Malaita, they spent a month visiting villages, the island of Auki and the man-made islands of Langa Langa Lagoon and Lau Lagoon. In early August they traveled north to the islet of Leuenewa in the Ontong Java atoll, where they filmed ceremonies and customs unique to the Solomons, including large wooden and coral cemetery headstones. Afterwards, they moved on to Guadalcanal, San Cristobal (now Makira),and Santa Ana islands.
This photo is taken while Martin + Osa were on the island of Auki, looking back to the main island of Malaita.  Martin had previously visited these locales while traveling with writer Jack London in 1908 aboard the Snark, and he specifically wanted Osa to get to see the stunning vistas the Solomons offer.
After a trip to Sydney, Australia to develop their film, Martin + Osa sailed to the New Hebrides which lie south of the Solomons. They visited Vao and Espiritu Santo, then Malekula which was inhabited by the Big Nambas and Chief Nihipat. Little affected by missionaries and traders, they were what Martin had hoped to find all along, but due to a miscommunication, the Johnsons stay ended abruptly.

In January of 1918, Martin + Osa had enough high quality footage for a successful feature film, "Among the Cannibal Isles of the South Seas," but bringing back the first images of actual headhunting in the South Seas had eluded them.
Looking for another awesome Martin + Osa Johnson photo?
We have over 20,000 images available for review in our 
ORDER NOTES:

Please select the size of photo you would like to order.
Digital Photo has been watermarked, it will not appear on your order print.
True Black & White
is our recommended color choice for this image.