252400b Big Nambas Wives, Malekula, New Hebrides, Vanuatu, 1919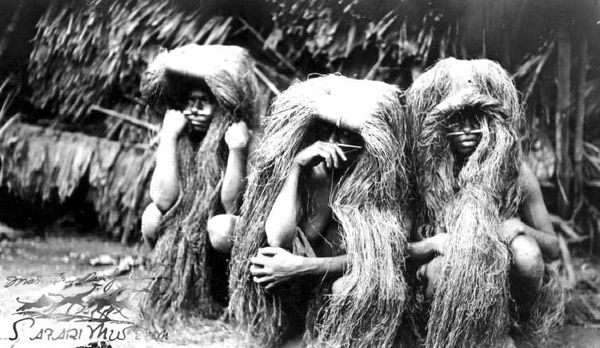 252400b Big Nambas Wives, Malekula, New Hebrides, Vanuatu, 1919
This image shows three of Chief Nihipat's wives.  During 100th anniversary commemorative events in 2019 held in Vanuatu, Safari Museum staff met many of Chief Nihipat's grandchildren.  They revealed that by the time of his death, Chief Nihipat had over fifty wives from all over Malekula. Chief Nihipat was focused on uniting the peoples of Malekula to fight off colonialism intrusion by both the British and the French.  
Expedition Background: 

In April, they left San Francisco for the New Hebrides (now Vanuatu) via Australia, New Zealand, New Guinea and New Caledonia. After checking in at Port Vila, the immediately returned to Vao. They organized an expedition and set sail for Tenmaru Bay on the island of Malekula with the intention of again filming the Big Nambas. After a successful visit, Martin and Osa left Chief Nihipat and his part of Malakula to photograph and film other tribes of the island.
Off the south coast of Malekula they visited the island of Toman where the heads of children were elongated through the use of tight bindings. From Toman they visited the island of Espiritu Santo before returning to Sydney, Australia, with 25,000 feet of film and 1,000 photographs.
ORDER NOTES:

Please select the size of photo you would like to order.
Digital Photo has been watermarked, it will not appear on your order print.
True Black & White
is our recommended color choice for this image.