[B19] Oceana or Pacific Ocean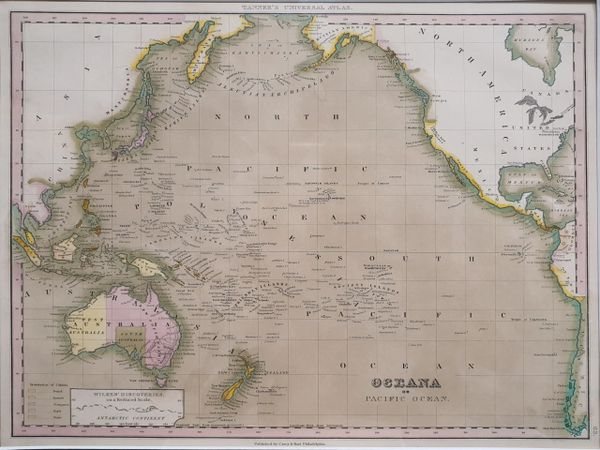 [B19] Oceana or Pacific Ocean
[B19]  "Oceana or Pacific Ocean"
From Henry S. Tanner's A New Universal Atlas…  published in Philadelphia by Carey & Hart (1845).  Steel engraving, hand colored.  Image size is approx. 15 ½ x 12 inches (approx. 39 x 30 cm).  Matted and shrink wrapped.  Mat size is approx. 20 x 17 inches (approx. 51 x 43 cm). $110.00
---
This & over 100 more original maps are currently on display throughout museum & in the Osa's Ark Museum Store are part of a fundraiser exhibition designed by Lloyd Zimmer Books & Maps of Chanute, Kansas.


As a part of several centennial commemorations planned from 1917-1921,  Lloyd Zimmer has curated this collection of maps to cover the various locations explored by Martin + Osa johnson from Chanute to North  Borneo and everything in between.


When you purchase any map, half the money is donated to the museum's educational programs! Thank you fro your support of the museum.
---
*Note: glare & light spots are the results of the archival packaging for close up. 
Photos of details please contact museum.