"Baboona" Martin and Osa Johnson's Movie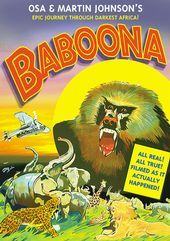 "Baboona" Martin and Osa Johnson's Movie
Baboona [1935]   73 Minutes    $14.95
This black and white Morro films feature was shot by Martin and Osa Johnson between 1933-34. It recounts the 60,000 mile "Flying Safari"the Johnsons undertook as they flew their two Sikorsky amphibian airplanes (the zebra-stripped S-38 and the giraffe-spotted S-39 Spirit of Africa) from Capetown to Cairo, Egypt.
Famous shots include the first ever aerial pictures of the tops of Africa's two tallest peaks, Mt. Killmanjaro and Mt. Kenya, Osa in the zebra plane surrounded by a pride of lions, and of course, which earned the film it's name, amazing scenes of a Baboon colony a US zoo asked the Johnsons to photograph. This film is a must for both aviation buffs and anyone who loves images of Africa!