Johnson House Boat and the "Spirit of Africa" 1935 H1503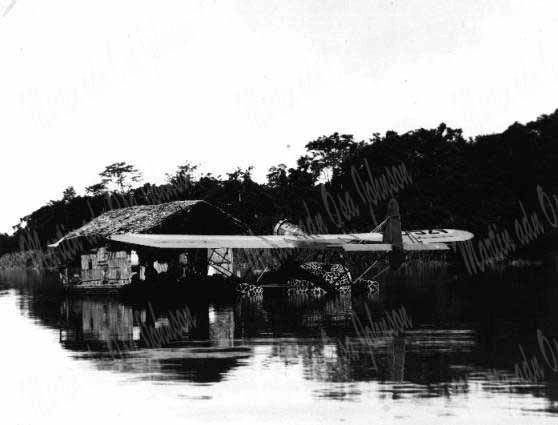 Johnson House Boat and the "Spirit of Africa" 1935 H1503
The Johnsons' last flying expedition together took them back to British North Borneo (Sabah, Malaysia) where they previously visited in 1920. After making the first flight over the North Borneo interior, Martin and Osa established a base near Abai on the banks of the Kinabatangan River. Their Sikorsky S-39 amphibian, renamed The Spirit of Africa and Borneo, was again used to facilitate travel, scout film sites and transport supplies.

Also pictured with the plane is the Johnsons' 1935 houseboat. That houseboat was a slightly more upscale version than the first one Osa had conspired to surprise Martin with in 1920. After just a few weeks in Borneo, Osa became quite concerned about the effects on Martins health from sitting in the dugout canoe for hours at a time. Osa schemed with some of the local leaders to have a large, floating house and film lab built to provide Martin some level of comfort during the 14-16 hours per day he spent filming as they sailed up the uncharted river. Osa's book I Married Adventure tells of Martin's reaction to their new floating home.

Please select the size of photo you would like to order.
True Black & White offers rich black continuous-tone prints
Photo has been watermarked not on original