La Aventura De Mi Vida by Osa Johnson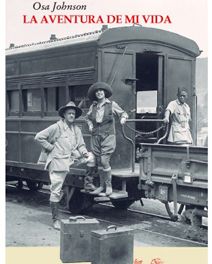 La Aventura De Mi Vida by Osa Johnson
Esta asombrosa historia comienza en un lejano pueblo de Kansas hace un siglo, cuando una adolescente bajita y pizpireta se casa con un joven que le lleva diez años y cincuenta centímetros de altura, al que apenas conoce. Martin Johnson acaba de regresar de una larga singladura por los mares del Sur junto al mítico escritor Jack London, que lo había elegido, casi por azar, entre centenares de candidatos. Osa Leighty, con sólo dieciséis años, quiere ser artista. Pero con aquella boda furtiva comienza una de las historias vitales más extraordinarias que uno pueda imaginar, una vida de viajes –por Nueva Zelanda, Borneo y, sobre todo, el África Negra- pasando penurias y peligros, fotografiando y filmando todo lo que ven, pero también disfrutando largas épocas de felicidad en lo más parecido al Paraíso Terrenal. Una vida que el lector querrá haber vivido con ellos.
Un libro plagado de fotografías y que incluye también un divertido mapa desplegable de sus viajes.
Translation by Bing:
This amazing story begins in Chanute, a small town in Kansas a century ago, when a teenager short and doting marries a young man who is ten years her senior and six feet in height,that she hardly knows. Martin Johnson had just returned from a long journey through the South Seas sailing next to the legendary writer Jack London, who had chosen him, almost by chance, among hundreds of candidates. Osa Leighty, only sixteen years old, wants to be an artist. But with their elopement one of the most extraordinary vital stories that one can imagine, they begin a life of travel - South Seas, Borneo and, above all, Africa - through hardships and dangers, photographing and filming everything that they see, but also enjoying long periods of happiness in the closest thing to paradise on Earth. A life that the reader would want to have lived with them.
A full book of photographs, which also includes a fun pull-down map of their  travels.