Lizzie Le Blond: Summit in Norway (1898)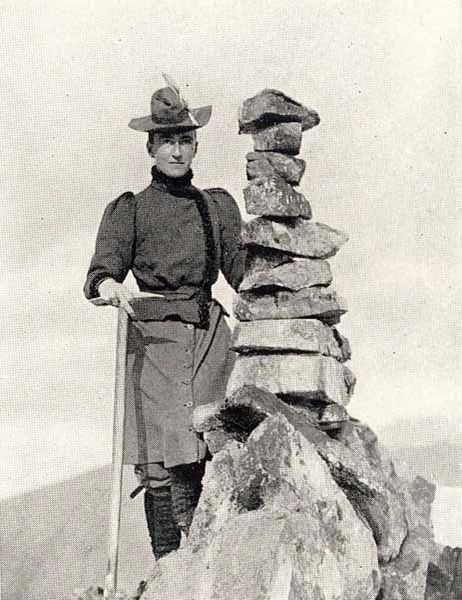 Lizzie Le Blond: Summit in Norway (1898)
Elizabeth Main on a Summit in Norway (1898)
The photographic and written records Lizzie left were her way to process and document her unique human experience as a female...then a true minority...in fields then, as now, dominated by men. The photo selections and the reflections she made privately in this collection are intrinsic to the background of the images, but the knowledge of her challenges and successes so long ago could be amazing opportunities for generations now ---and for those in the future---to genuinely connect with what came before by sharing her full realm of experiences. This image shows Elizabeth with a cairn in Norway during her ascent in the Lyngen Peninsula region in 1898. The photo appears in her book Mountaineering in the Land of the Midnight Sun, published in 1908.
Elizabeth Main Le Blond: Queen of the Mountain
Our museum is home to an unprecedented collection of over 2,000 photographs and personal archives of Elizabeth Alice Frances Hawkins-Whitshed Burnaby Main Le Blond (1860-1934). Lizzie, as she was nicknamed, was an author, mountain climber, and one of the world's first female filmmakers. Lizzie was climbing mountains in Victorian skirts and shooting her extraordinary photographs of stunningly scenic glacial landscapes before legendary nature artist Ansel Adams was even born. She is credited with producing the very first sports films, covering the fields of hockey, tobogganing and bobsleigh racing. The photographs in this collection, accompanied by Lizzie's own captions and notations, detail many events and personal relationships that were publicly unknown before the albums were discovered and donated to this museum.
Basic Background on Lizzie: Elizabeth Hawkins-Whitshed Burnaby Main Le Blond (June 26, 1860 - July 27, 1934) was a mountaineering pioneer in a time when it was unheard of for a woman to participate in most sports, and certainly none as extreme as ice climbs over four kilometer peaks. In her life, Elizabeth climbed the highest mountains in central Europe and northern Norway. Of her over 200 climbs, 24 were the first ascents ever, by either women or men. In 1900 she and Evelyn McDonnell lead the first "manless" ascent, a winter traverse of Piz Palü on the Swiss-Italian border. 
ORDER NOTES:

Please select the size of photo you would like to order.
Digital Photo has been watermarked, it will not appear on your order print.
True Black & White
is our recommended color choice for this image.