Martin and Osa Johnson atop Spirit of Africa: Champions of Sports Series for Wheaties Cereal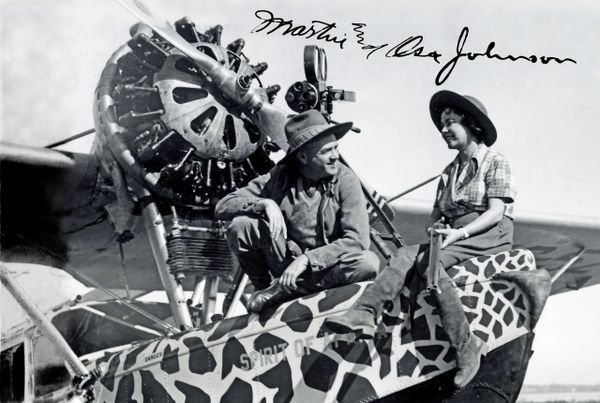 Martin and Osa Johnson atop Spirit of Africa: Champions of Sports Series for Wheaties Cereal
Martin and Osa Johnson atop Spirit of Africa: Champions of Sports Series for Wheaties Cereal
This is one shot in a series the museum has in our collections of Martin and Osa atop Osa's giraffe-spotted Sikorsky S-39 Amphibian plane.  When Wheaties Cereal put Martin and Osa Johnson on the cover of their new "Champions of Sports" box series in 1934, they chose photos from this series.  During a 2020 renovation at the museum, we imprinted a copy of Martin and Osa's own signatures with this image and installed it at the new front entrance.
Looking for another awesome photo from our collection?
We can produce posters of over 20,000 images available for review in our 
ORDER NOTES:

Please select the size of poster you would like to order.
Due to variation in original image sizes,
posters will be printed as close as possible to your size selection.
Digital Photo has been watermarked;
it will not appear on your order print unless stated.
Poster paper is not glossy & is thinner than photographic paper. 
Do not heat mount Posters.