Poster of Jungle Adventures 1920 North Borneo Film Ad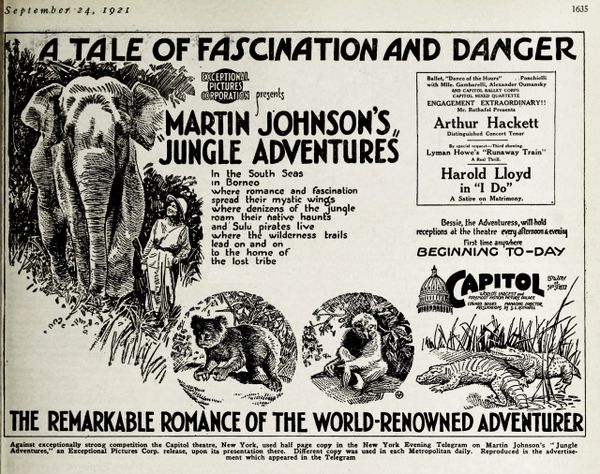 Poster of Jungle Adventures 1920 North Borneo Film Ad
Poster of Jungle Adventures 1920 North Borneo Film Ad

Martin and Osa Johnson returned to Malekula, New Hebrides (now Vanuatu) in 1919 to film the Big Nambas once again, this time with an armed escort. The escort proved unnecessary as the Big Nambas were disarmed by watching themselves in "Among the Cannibal Isles of the South Seas."  Martin and Osa finished their trip in 1920 with visits to British North Borneo (now Sabah) and a sailing expedition up the coast of East Africa. After returning home, they released the features Jungle Adventures (1921) and Headhunters of the South Seas (1922).
The image used for this poster is one of a dozen plus examples of advertising for the feature film Jungle Adventures and the 21 short films that accompanied it.
Looking for another awesome photo from our collection?
We can produce posters of over 20,000 images available for review in our 
ORDER NOTES:

Please select the size of poster you would like to order.
Due to variation in original image sizes,
posters will be printed as close as possible to your size selection.
Digital Photo has been watermarked;
it will not appear on your order print unless stated.
Poster paper is not glossy & is thinner than photographic paper. 
Do not heat mount Posters.