Rhino Chasing Planes Poster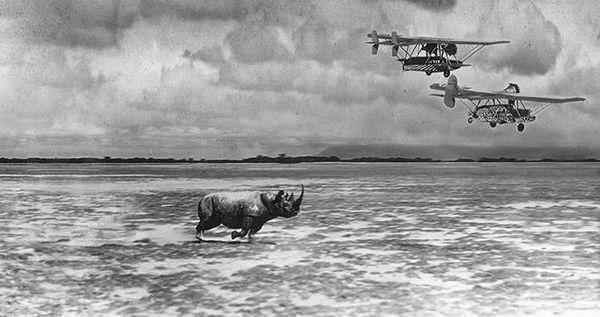 Rhino Chasing Planes Poster
Rhino Chasing Planes Poster
In 2019 the museum conducted an extensive renovation of our first floor portion and public areas of the historic Santa Fe Depot. Included in the renovation was the design of large to life size murals for our new main entrance and our new Oceania Gallery.  This image was selected to be the wayfaring sign for our visitors accessing the museum's second floor galleries via the external stairs or elevator. It is one that Martin and Osa Johnson selected as a postcard to send to their friend and fellow Vaudevillian/Broadway actor Chic Sale. The original postcard is in our collection and Martin's caption on the back was "We're Coming Home!!"
The image is an unusual landscape size; we will print yours on high quality matt poster sheet that is as close to/larger than selected to be cut or framed to the your preference.
Looking for another awesome photo from our collection?
We can produce posters of over 20,000 images available for review in our 
ORDER NOTES:

Please select the size of poster you would like to order.
Due to variation in original image sizes, 
posters will be printed as close as possible to your size selection.

Digital Photo has been watermarked;
it will not appear on your order print unless stated.
Poster paper is not glossy & is thinner than photographic paper. 
Do not heat mount Posters.