Three Boy Scouts and Ikoma Guides on the Serengeti Plains 1928 - B569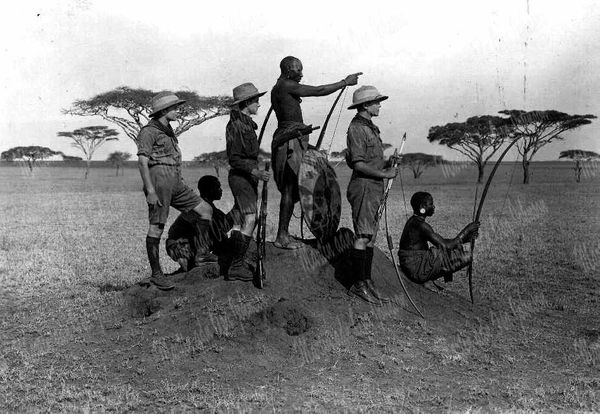 Three Boy Scouts and Ikoma Guides on the Serengeti Plains 1928 - B569
Three Eagle Scouts were chosen from over 600,000 boys to go on a summer safari with Martin and Osa Johnson in the "Wild Game" country of Africa. The scouts David Martin, Douglas Oliver, and Robert "Dick" Douglas, Jr. sailed from New York on June 9 and were met in early July at the Nairobi train station by Martin and Osa Johnson. On July 11 they accompanied the Johnsons on safari to the Serengeti in Tanganykia (now Tanzania). After 5 thrilling weeks on safari, they left Nairobi for home The boys wrote the story of their trip on board ship and "The Three Boy Scouts in Africa" was published in 1928.

"One of the Waccoma (Ikoma) cheifs took a great fancy to the Boy Scouts. He stands here on an ant-hill pointing out to them a nearby donga in which he declares they will find lions. The Chief was right." Martin Johnson, LION 1929
Please select the size of photo you would like to order.
True Black & White offers rich black continuous-tone prints
Photo has been watermarked not on original